---
In EEXAR, enriched content can be associated to products, this content is called Media and can be of many different types, the following list recaps the types supported:

Pictures

Videos

3D Models

Binary files (ex: PDF, PPT, Excel, Word etc.)

The first thing you will notice when landing on the Media page, is that the folder structure strictly matches the one of Products, so that you can easily find the content that you are looking for. If you need more information about folders for Products, you will find them
here
.

Note:

You can only add, edit or delete Media folder by executing the respective action on the corresponding Product folder.

The first view you'll land on after entering a Media folder of a Product Folder is the All Media view of all the Media contained by the Media Folder.

This view simply shows ALL the Media that this folder contains, it is useful when looking for specific types of Media such as 3D Models or Videos.

From there you can also perform Mass Media Imports through ZIP files, more about this topic
here
.
By Product view

You can switch from a view to another by clicking on the
/
icons on the top right corner, switching to the "By Product" view is going to gather the Media associated to the ct under a single row, hence you will be able to easily manage the Media that only belong to a product specifically.
When you click into a product, you will land on the "Media associated" view that recaps all the Media that belong to the product, they are divided into two tabs:

Media

Files

Media tab

Here you will find every media that is not a binary file such as Pictures, videos and 3D Elements that can be used directly inside the carousel in the Product detailed view, or also inside the AR Editor.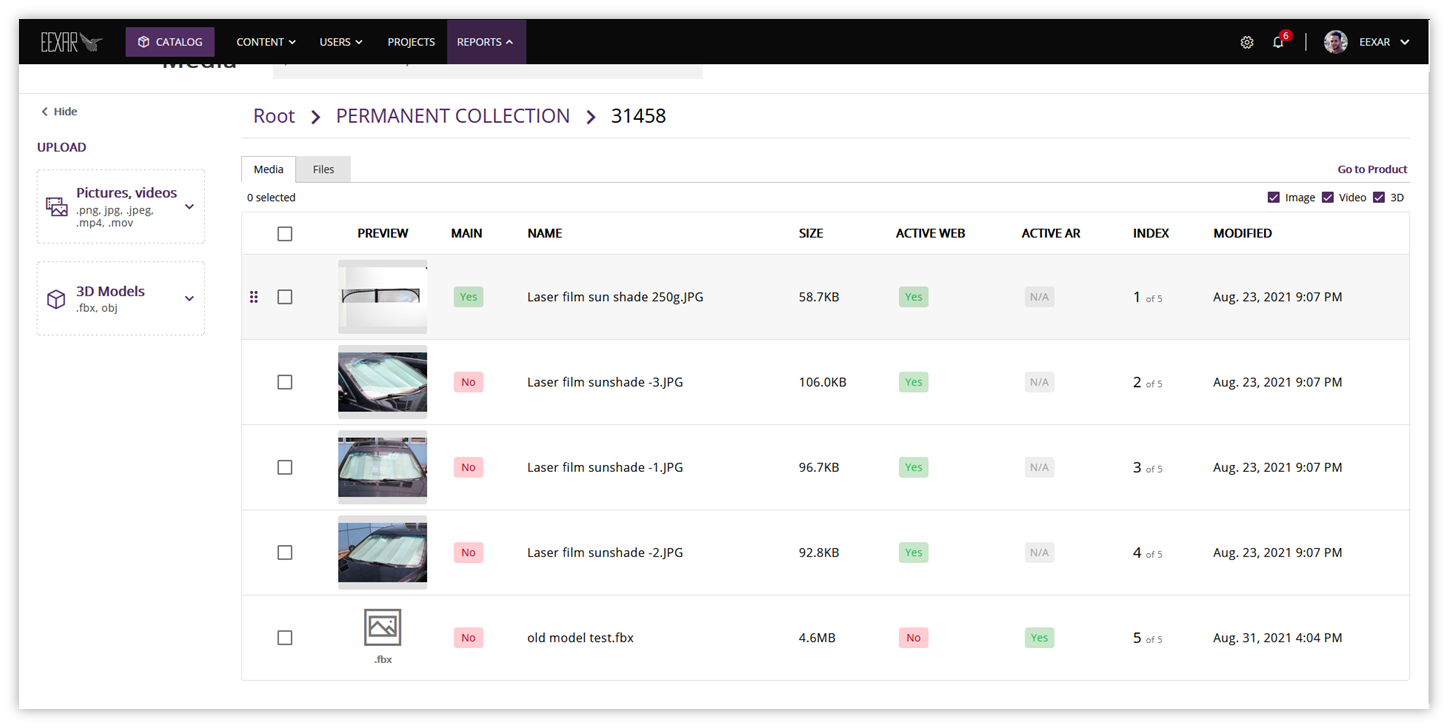 From here you can:

Manually upload the following media:


Pictures

Videos


Change the media index (possible via Drag & Drop)

Set media to active/inactive

Delete media

Files tab

Here you will find every files such as PDF, Word, Excel or PPT files for example that are linked to the product and can be used as downloadable file.

From here you can:

Manually upload files
Change the files index

Set files to active/inactive

Delete files


Info:

Compared to traditional media which appear inside the carousel, Attached Files appear next to the product reference in the product details view (see screenshot below).

When you click into a specific media, you will land on the "Media details" view that recaps the Media information and provides a preview (preview not available for Files).

From there you can:

Edit the Media


Change the file name

Upload a new file


Open the file location (in a new tab)

Delete the Media


Note:

3D Models have additional information such as dimensions for the AR purpose.